#1 SheerPosture
The SheerPosture is an adjustable, unisex one-size-fits-most traditional posture brace that is comfortable, effective, and affordable.  It provides just the right amount of shoulder support and helps to retrain and realign your posture.
This support is well designed and offers the most bang for your buck. Also,  it's available in three different colors, black, blue and pink.
Comfortable and simply effective
One size fits most design that's fully adjustable
Comes with free removable armpit pads for added comfort
Durable and lightweight –  weighs 9 oz and will not fall apart
Easy to conceal under clothing
Offered with 90 day Money Back Guarantee
Total price of $39.99 with free shipping
Learn more about my experience with the SheerPosture here.
#2 Alignmed Posture Shirt
Backed by extensive medical research, the Alignmed Posture Shirt 2.0 has earned the number one spot for several reasons. It has been featured in the USA Today, Good HouseKeeping , Sports Illustrated, Forbes, Time Magazine, Wall Street Journal, AAPR, Los Angeles Times, and several other publications.
Unlike traditional posture braces, the Alignmed shirt has no straps, buckles, or rigid panels. It's worn like any other tee shirt and is surprisingly effective.
Physician Recommended – Recommended by 1400+ physicians
Comfortable & Effective – A soft material makes it easy to wear
Non-restrictive – Does not restrict movement. Allow a full range of motion
Versatile – Can be worn at the office, gym, while driving or playing sports
Available in white, white/gray and black
Total price of $85.50 plus shipping (Must use promo code PBGTEN for 10% off)
Read about my personal experience using the Alignmed Posture shirt here.
#3 ShouldersBack Lite
Designed by a team of orthopedist and able to stand the test of time, the Shoulderback Lite has earned the number two spot for several reasons.
This product offers the perfect balance of comfort, durability, and cost. It's available in both black and white and can accommodate a chest size up to 50″. It doesn't require complex adjustments, making it simple for anyone to use.
Extremely effective posture trainer
Orthopedist designed
Made in the USA
Lightweight breathable fabric
Total weight of less than 3.5oz
Easy to conceal
Priced at $50.95 plus shipping
Read my complete review of the ShouldersBack Lite.
SheerPosture:  My Pick for Best-Value Posture Support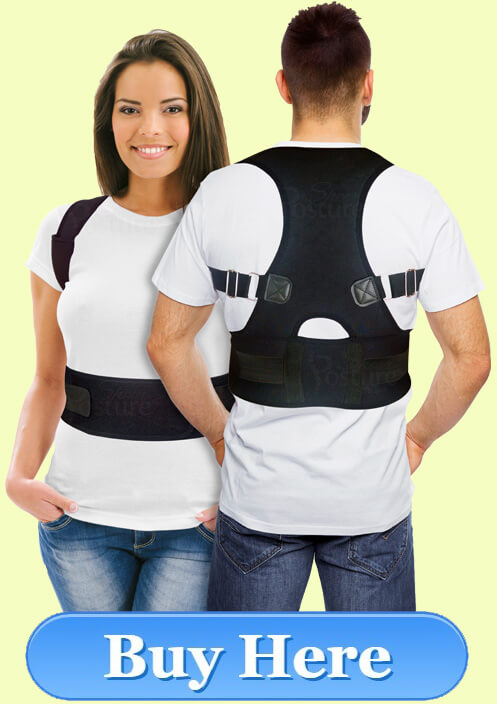 The SheerPosture is a product that I have tested in the past and recommend to anyone who's interested in getting the most bang for their buck. It offers an abundance of great features at an affordable price. You can read my complete product review by clicking here or visit the SheerPosture company website by clicking on "Buy Here" underneath the picture.
One-size-fits-most unisex design
Affordably priced at $49.99 with Free 1-3 day shipping
Comfortable and durable reinforced material
Comes with removable armpit cushions
Offered with a 90 Day Money back guarantee
Simple yet effective