AlignMed
AlignMed is a Santa Ana, CA based company that has been designing postural and fitness products since 2004. Their core mission and belief is that by maintaining and preserving proper posture and form, you can increase mobility, range of motion, reduce pain, and enhance your performance.
Increase Your Mobility
Some may not think that mobility and movement are related to good posture, however your posture really is the back bone to being mobile. Mobility by definition is the ability to move or be moved freely and the foundation of movement is having good posture. AlignMed specifically designs their Interactive Apparel capri pants with a proprietary elastic material that helps stimulate muscle groups to promote good posture during wear. When correct posture is achieved, your body becomes stable and therefore allows for increased mobility.
Increase your Range of Motion
The AlignMed Capris aid in increasing your range of motion by promoting proper posture and form. When you practice good posture, your mobility increases and your body becomes stable. A stable body allows for more range of motion in our joints. It's much easier to reach your arm behind your neck to scratch your back when you are standing straight with proper posture. If you are hunched over, it's more difficult – try it! This is an example of how your range of motion increases with proper posture.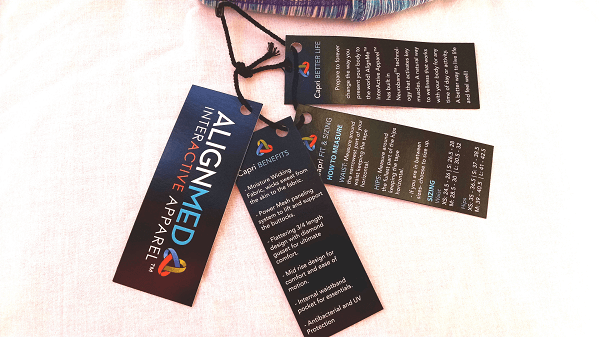 Reduce Pain
Maintaining good posture is the key to reducing lower back and neck pain – both caused by poor posture. When you keep an aligned and healthy spine, back pain can be tremendously reduced. It's easy to get into a bad habit of sitting slouched at a desk or standing humped over. The AlignMed Capris aid to help in promoting good posture while they are being worn. Practicing good posture with the capris on will train your spine to align correctly. Over time, your body will soon be trained to maintain good posture and can reverse damage to nerves, muscles, discs and joints that were impacted by poor posture.
Enhance Performance
Practicing good posture is key to staying mobile, active, and healthy. The AlignMed capris won't turn you into an Olympian overnight, but they do promote an active lifestyle. The key is to move. Get off of your office chair and walk around, practice good posture, and be active. This is what AlignMed means by promoting enhanced performance. Whatever you are doing, perhaps yoga, running, weight training, or simply walking, the AlignMed capris are meant to promote good posture and aid in performance.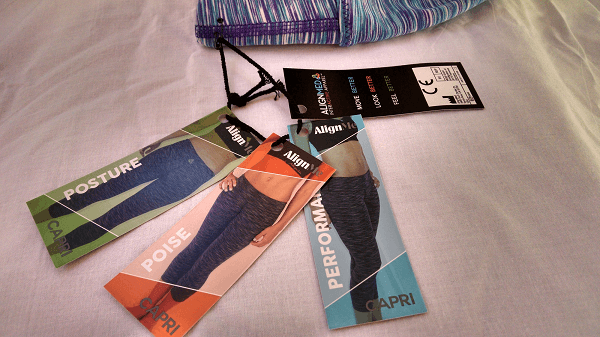 What is Interactive Apparel?
AlignMed's Interactive Apparel is actively working for you while you're wearing it. Their proprietary materials include Neurobands, Muscle Mapping, and Gel-Channeling. These three technologies work together to create a stimulating piece of apparel that trains your spine to align naturally which will promote healthy posture.
AlignMed Neurobands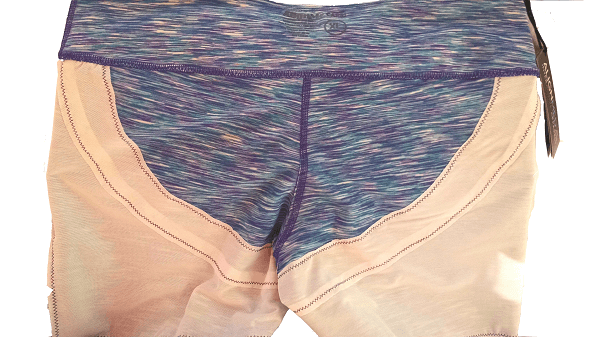 The elastic neurobands found in the AlignMed Mid-Calf capri pants have similar properties as your muscles in that they train your joints and soft tissues, thus strengthening and aligning your spine. While wearing the capris, you will feel a tight pull in various areas – this tightness is actually stimulating your muscles so that your body can naturally align.
AlignMed Muscle Mapping
The AlignMed Muscle Mapping is actually a maze of neurobands specifically sewn into key areas of the capri pants so that when worn, a precise amount of pull and tension can stimulate and support your muscles. This trains soft tissues and joints so that your spine can strengthen and align in a natural healthy position. If you find that your AlignMed pants are too loose and are not experiencing a slight tightness, you may need a smaller size. The pants are designed to fit tightly so muscles can be targeted and stimulated, yet comfortable to wear during any physical activity.
AlignMed Gel-Channeling
AlignMed's third proprietary technology is the Gel-Channeling. Although gel-channeling is not used in the AlignMed capri pants, it is another kind of stimulating technology that targets areas of the foot and toes to promote circulation. The gel redirects the energy from your steps to where you need the support the most.
Product Features
Sizes
The AlignMed Mid-Calf capris are available in 5 sizes: XS, S, M, L, and XL. The size chart breakdown is as follows:
X-Small
24.5″-26″ Waist and 35″-36.5″ Hips
Small
26.5″-28″ Waist and 37″-38.5″ Hips
Medium
28.5″-30″ Waist and 39″-40.5″ Hips
Large
30.5″-32″ Waist and 41″-42.5″ Hips
X-Large
32.5″-34″ Waist and 43″-44.5″ Hips
If you find that you are on the border of a size, AlignMed recommends to size down. Their NeuroBand technology is more effective when the capris are snug and not loose. I ordered an XL and at first glance when I opened my package, I thought the sizing looked spot on. Sometimes certain brands of yoga pants or exercise capris arrive looking really tiny like you can just pour them on, but the mid-calf capris looked just right. To be honest, my measurements were a bit larger than described under their XL sizes, but since it said to size down, I crossed my fingers and hoped they would fit.
My Personal Review
The first wear
As I started to put on the capris, I noticed that they were a bit snug around my calves and knees. I was a little nervous that they were going to be too small but as I continued to pull them up around my hips, I soon realized that they were the perfect fit. (Tip: If you start to feel like you have to really pull on the material in order to get them on, grab the pants from the bottom knee area and pull upwards instead of pulling at the waist band. This will cause less stress on the fabric at the top, and will form tighter around the buttocks and waist where you really need the support.)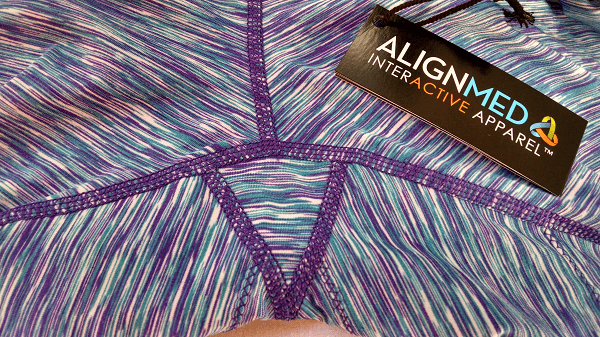 It's amazing how you can really feel the power mesh materials and neurobands inside the pants (pictured above). I am a fuller figured gal and love my curves, and let me tell, these capris make me feel confident and strong. The power mesh panels really do lift the buttocks and gave me the comfort and support that I need. The waistband rests just at my belly button. I did hike the pants up a bit because I prefer a high-rise waist, especially when I'm exercising so it keeps my stomach in and tight. I've never felt this good in yoga or workout pants ever.
I read online that the next day after use, you may be sore from the neurobands in the pants.  I didn't believe it at first, but the next morning I felt like I had done squats the day before and felt a tightness on my backside – this goes to show that the neurobands really did stimulate my muscles and were actively working while I was wearing them!
Color Options
The Mid-Calf pants are available in 4 colors: black, blue, mint green, and grey. The blue pants consist of a pattern that combines purple, blue and white. It's a unique brush stroke pattern that is very bright and attractive. The same pattern is available in mint green and grey as well. The mint green pattern has touches of white and light tan. The grey pattern has hints of navy blue and black. The most flattering of the colors will be the black and grey colors. However if you are looking to show off those legs, the blue and mint colors are the way to go if you want to make a statement. All color options are designed with Neurobands and muscle mapping, so choose the color your prefer, or buy several!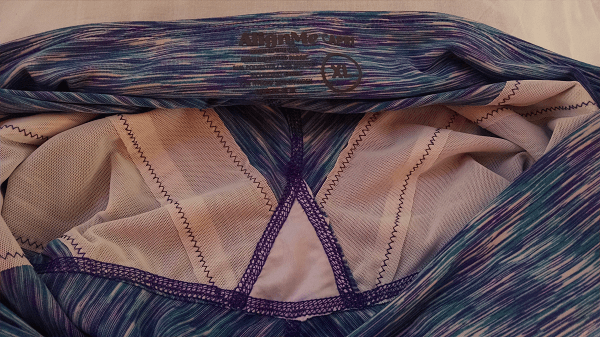 Comfort
These AlignMed capris are very comfortable – it's the perfect combination of a snug fit and a soft fabric, allowing you to freely move in whatever environment you plan to be in. When you first put the pants on, you can actually feel the fabric shape around your legs and pull you in with a nice, cozy fit. The pants have a comfortable waistband that is not low-rise but more mid-rise. When compared to the average loose fitting yoga pants out there, these actually form around your thighs and buttocks so you feel supported. This helps to lift, shape, and stimulate your glutes and hamstrings. There is also a diamond-shaped gusset for additional reinforcement in the seat area and flat-lock seams for added comfort that help to reduce chaffing.
Pricing
The Align-Med capris are priced at $95 + $6.20 USPS Priority shipping, which brings your total to $101.20 per pair. Some may think that the pants are a bit on the high-end of exercise apparel, however most yoga pant manufacturers do not have the proprietary interactive apparel technology built in to the fabric like Align-Med does. Middle range quality exercise apparel usually costs between $35-$50 per item, so really these capris are only double the price and you get all the benefits of powermesh panels, top of the line moisture wicking material, neurobands, and muscle mapping technology. Considering all of the research, development, and product design that AlignMed has into their apparel, I think the capris are more than fairly priced for such a one-of-a-kind item.
Shipping
Shipping is pretty standard however there are a few options to choose from:
USPS Priority Mail – 3-5 business days for $6.20
FedEx Express Saver – 3 business days for $13.95
FedEx 2-Day – 2 business days $15.21
USPS Priority Mail is pretty much right on point at 3 days anywhere in the country, even though they say it can take 5 business days. If you are not in a rush, USPS Priority Mail is most likely the best shipping option. If you are in a hurry to receive the pants, the 2-Day shipping price is actually very reasonable at $15.21.
Apparent Quality
The capris are designed with AlignMed Powermesh panels. These panels are meant to lift and support the buttocks and are composed of reinforced material that is breathable yet sturdy enough for repeated use and wear. Another great feature is that the material used in the pants is moisture-wicking, meaning that moisture is absorbed from any area of your body and then is dispersed among the rest of the material and away from your body so that it can dry out and keep you cool. This is especially helpful during vigorous workouts or when you begin to sweat.  The fabric is 85% polyester and 15% spandex, which is why the pants are silky smooth and comfortable.  There is a hidden pocket located in the waist band that is a great place to stash a key or hold your drivers license. I personally keep my house key in the pocket when we take our after-dinner walks in the evening.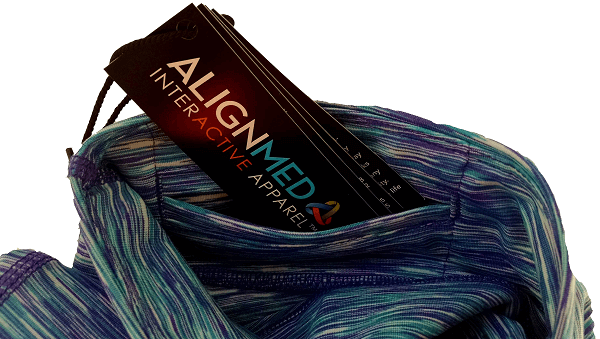 Care Instructions – Do's and Don'ts
Per AlignMed's instructions, it's best to hand wash the capris in cold water with a mild detergent and then hang to dry. Do not iron. Do not bleach. Most people throw their athletic wear directly in the washing machine and dryer, but sometimes this can cause bright colors to bleed onto other articles of clothing, or weaken the stitching around the seems which ultimately causes holes to form or the fabric to rip apart. If you are like me and rarely hand wash any clothes by hand, I think it's safe to say that you can put the pants on the gentle/delicate cycle on cold in the washing machine – but only if you are washing the pants by themselves or with like-colors. Then simply throw the pants over a hanger and let them air dry. The pants only need a few hours to air dry since the moisture wick material naturally draws the moisture out. It would be best to avoid washing the pants with any items that have velcro, zippers, or buckles attached so that you can prevent any small snags or damage to the fabric.
Product Uses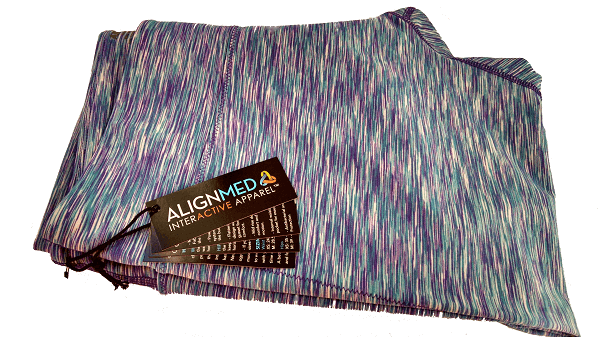 There are many uses for this interactive apparel – and as long as your active in them, they are working for you to support good posture. The capris can be worn during any activity, whether it's a vigorous workout or a casual walk around the neighborhood. We all know these pants are great for running to the grocery store in and all those exciting errands we run all the time as well. Common uses of the capris are yoga, regular gym use, running, walking, biking and lifting, but are by no means limited to these activities. The mid-calf pants can be worn all day or for just a short time period. The lifetime of the pants varies based on regular use, what primary activity they are being worn during, and the proper care and cleaning of the pants. I wear my AlignMed pants all the time, especially because I work from home. I have a pretty active lifestyle and am always on the go. Whether I'm running around the house cleaning or cooking, out at the gym, walking around our neighborhood's greenway trails, or simply sitting at my desk for a few hours (or many hours!), the capris really are comfortable during any part of my day. Sometimes I hate being "that woman" at the grocery store in my workout clothes, but these are fashionable enough to make a statement, and let's face it, until I'm unable to rock them in public, by all means I'm going to!
I did notice that when I wore the capris, I found myself standing and sitting upright with better posture.   I think that the tightness of the material and neurobands underneath were definitely stimulating and training my muscles to practice good posture.  I can't say that I had perfect posture the entire time that I was wearing the capris, but it was clearly noticeable that the pants were positively impacting my stance.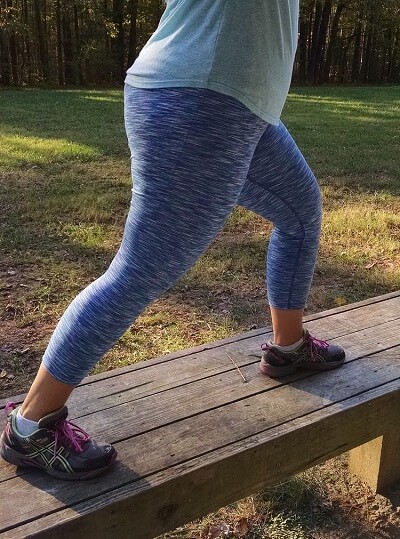 Warranty – It's guaranteed!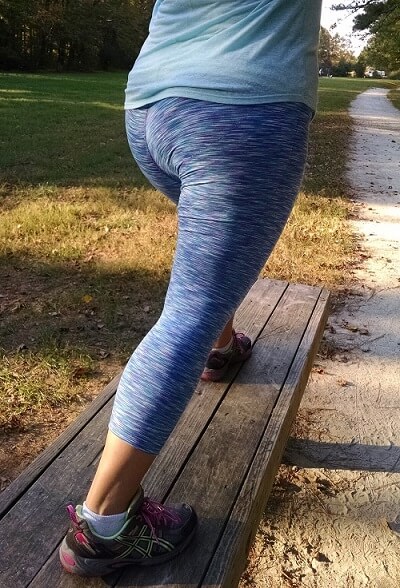 AlignMed has a great 60-Day Manufacturer defect return policy. This means that if you received the product in a damaged or defective state, you must let the company know within 60 days in order to receive a replacement or have it repaired. AlignMed does not cover negligence, normal wear and tear or modifications of any sort in their warranty.
This policy is pretty standard in the industry – although many competitors offer 30 day warranties, so the AlignMed manufactuer's warranty is a bit longer than most.
Other Apparel
If you are in love with your mid-calf capri pants like I am, you may want to check out some of AlignMed's other products. They have a great sports bra that is available in several colors. There is also a women's pullover shirt and zipper down shirt – both available in an array of colors. All products use the neuroband and muscle-mapping technologies. If you are training and are looking to increase foot strength and speed, AlignMed  has full-range shoe insoles available. These inserts use the gel-channeling technology that I was discussing earlier on, that is not found in the apparel, just the shoe inserts. The insoles wick away moisture, are interchangeable and reversible, and improves shock absorption during impact training.
Pros
stimulates and trains muscles which promotes good posture
comfortable
fashionable
instant buttocks support
fast shipping
Cons
on the high-end of athletic apparel