☆☆☆☆☆ 4 Star Rating
Product information
A few years ago, I recall coming across a KickStarter campaign that was created for a new wearable electronic device that could sync to your smart phone and allow you to monitor your posture and level of activity. The device was called the LUMOback and it was the vision of three Stanford University graduates – a physician, an engineer, and an entrepreneur.
Five months after the launch of their original Kickstarter campaign, the trio had doubled their initial funding goal of $100k just as they were ready to ship out their first batch of LUMObacks.
It wasn't long before the company decided to come out with a more compact version of the LUMOback called the LumoLift which eventually became their primary focus and seemed to serve as a replacement for the LUMOback.
Looking at the companies website, it seems as if refurbished LumoBacks are still available although it doesn't appear as if they are still manufacturing new devices.
How is it used?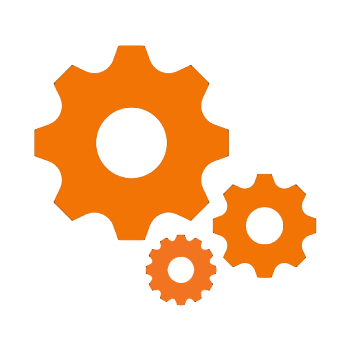 If you have been following along over the past year, you may have noticed that I have reviewed several posture braces and trainers before getting around to testing the Lumo Lift. Thus far, all products that I have tried have been fairly low-tech in comparison to this device.
Unlike braces or trainers, the Lumo Lift does not forcibly hold your shoulders back to achieve good posture. Instead, it continuously monitors your posture using a small discrete sensor that is worn on your shirt near your collar bone. The sensor is calibrated by double clicking on it while sitting up straight and using good posture. Calibrating the sensor establishes a baseline that is then used by the device to judge your posture. The sensor then detects forward, backward, or sideways movement and then uses an algorithm to determine if poor posture is being used.
There are 3 ways that you can use the Lumo Lift to help retrain your posture. Ultimately, the goal is to become more aware of your posture and strengthen your postural muscles by using them correctly on a daily basis. After all, posture is a learned habit that can be modified by simply changing our behavior.
Coaching (most aggressive)- While in coaching mode, the sensor will create an instantaneous vibration as soon as you begin to use bad posture. You have the option to turn this mode on or off by simply pressing and holding the sensor for three seconds.
Posture Alert (less aggressive)- An alternative to coaching is the Posture Alert mode. The primary difference between the two modes is the response time of the sensor. Unlike the coaching mode which sends out an immediate reminder when bad posture is being used, you are able to specify a length of time between one and thirty minutes of poor posture before the alert is activated. You can also specify a session start and end time. This option is a great choice if you prefer a delayed alert rather than an immediate one.
Monitoring (least aggressive)- As a third option, simply wear the sensor throughout the day while remaining mindful of your posture. At the end of each day, check the app and review the data that was collected throughout the day to see how well you preformed. Use the app to view an hourly breakdown of your posture which can be compared from one day to the next. This information can be used to identify periods of poor posture as well as track your overall progress.
You can use any combination of the mentioned modes to fit your needs. A good strategy may be to start by using the posture alert set at 1-2 minutes or more and then gradually work your way down to the coaching mode as your posture improves. Keep in mind, you can always use the device in coaching mode without having to sync to a smartphone.
UPDATE: Lumo has recently announced that they have combine the coaching and alert feature into one, allowing you to simply set the time delay before being alerted. To emulate coaching mode, you can set the delay for 3 seconds. Set the delay to 1 minute or more to emulate posture alert mode. Currently, this feature is only available to iOS users.
Pricing and Guarantee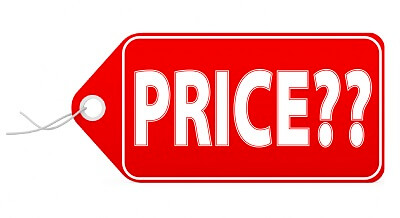 The Lumo Lift currently sells for $79.95 with free shipping. If you need a dongle for your PC, these sell for an additional $19.99 or the two can be purchased as a package for $94.99, a savings of $5.00. The company does offer an overnight or two day shipping option for an additional charge.
It comes with a 31 day money back guarantee and 366 day warranty.
According to the manufacturer's website, they will accept your return within 30 days of the ship date for any reason. The company will refund the entire purchase price minus any shipping and handling which of course should not apply because they are currently offering free shipping.
As for comparing the cost of the Lumo Lift to similar products, it's difficult to make a comparison because it's such a unique product. Traditional posture braces often sell for $50-$70 and the Lumo Lift sells for $79. While a bit more expensive, this product offers several features that a traditional posture brace does not.
Where's the Android App?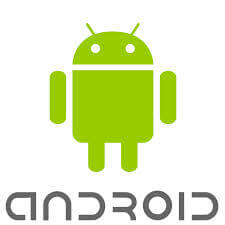 At the time of its release, 80% of smartphone users were running an Android operating system while only 15% were using iOS. Perhaps the company assumed that most techies who were going to be the first to try their device owned at least an iPhone, iPad, or iPod. Surely this couldn't possibly be the answer and naturally, I had to satisfy my desire to get to the bottom of this matter which led me to do a little research.
So exactly why is the Android App not available for the Lumo Lift? A blog post from Lumo BodyTech dated June 9, 2014 should help to shed some light on this question.
In the blog post, company co-founder Andrew Chang explains that Google's native BLE technology is relatively young and challenging to work with. This has caused a delay in the release of the Android App. For all the non-techies out there (I'm including myself in this one), BLE stands for "Bluetooth Low Energy" and it's simply a newer type of short-wavelength data transmission that works over a shorter distance in an effort to conserve energy and reduce battery consumption.
This leads us to the million dollar question: When can we expect the Android App to become available?
When will it become available?
Lumo BodyTech seems to be fairly tight-lipped when it comes to offering a release date. Perhaps they don't want to disappoint if they miss their anticipated date?
While the release date is not exactly clear, the company appears to be beta testing an app for the Samsung GALAXY S4 & S5 as well as the Note 4&5. In other words, an Android App does exist, however, it's being tested by a select few in order to work out any bugs before actually being released to the general public.
My prediction….
It would of course be in the companies best interest to release the Android app prior to the 2015 holiday shopping season in order to capture the holiday sales from Android users. Given that there's rumored to be beta testing going on as this review is being written (June 2015), I'm predicting that the release will come sometime around fall of 2015 or sooner. Bookmark this post and check back for release updates and to read my updated review which will provide extensive coverage of the Droid app as soon as it's released.
If you are a Droid user, the good news is that you can use the Lumo Lift without the software and just wait for the new app to be released. When used in the coaching session, you will be "buzzed" whenever your posture begins to fail. No software required. It's activated by pushing and holding the sensor for 3 seconds.
In the meantime, Android users can track their progress using Lumo's latest offering, the Windows PC dongle which retails for $20 and simply plugs into an available USB port and provides desktop monitoring of your posture.
UPDATE: Lumo Body Tech has officially announced the release of the Android app on June 4, 2015. Android app review will soon follow. Stay tuned…
According to a blog post on the companies website, the following devices are supported. Keep in mind, you must be running Jelly Bean 4.3, Kitkat or Lollipop.
Samsung Galaxy S4 / S5
Samsung Galaxy Note 3 / Note 4
Nexus 6
Moto X (2nd Gen)
Windows BLE Dongle & Desktop App for Lumo Lift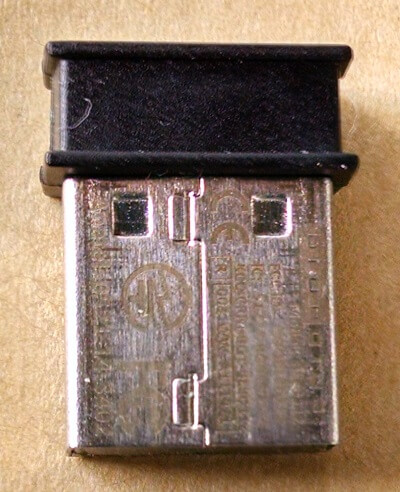 Released in the Fall of 2014, the Windows Dongle for the PC allows those without access to an Apple product or anyone who simply prefers to use a desktop version of the software to get in on the action.
The dongle can be purchased separately or discounted when bundled with the device.
There are however two restrictions with this dongle. First, it must be used with Windows 7 or later and second, you must have an available USB port.
It uses Bluetooth LE technology which can operate up to 30 feet from your computer.
Personally, I spend most of my work day behind a computer and this is when my posture suffers the most. In my case, using the Dongle actually seemed to be a better option.
Setting up the Windows Dongle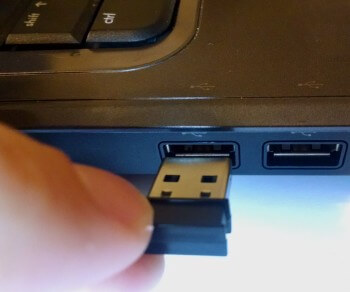 As a person who has a tendency to set goals and track my progress, I had to set up and start using the Lumo Lift app.
I primarily use Android devices and as mentioned earlier, the Droid app has yet to be released. (EDIT: Android App is now available) Fortunately, I run Windows 7 on my PC and was able to use the Bluetooth dongle that Lumo offers.
Installing it was simple. I just downloaded the file from their website, plugged in the dongle and opened the program. I was then asked for information such as my name, email address, age, sex, height, and weight.
After entering this information, I was instructed to press the sensor once in order to sync the device to my computer. Easy peasy.
Features accessible with the windows app
The windows app offers several additional features that are inaccessible without it. Here is a brief summary of exactly what can be accessed with the app.
Steps, Distance, & Calories – While the primary purpose of this device is to train and monitor posture, the step, distance, and calorie counters are a nice bonus. To test for accuracy, I walked around for two minutes while counting my steps. I then returned to my work station and waited for the Lumo Lift to sync with my computer so that I could compare my count to what the device recorded. The Lumo Lift was right on the money! I later walked a known 3 mile distance and once again it proved to be very accurate. Calorie count is calculated based on the weight and age that is entered when you set up the app. I wasn't able to check the accuracy of this feature.
Real time coaching – Enter a coaching session and view real time feedback using the coaching screen view. While using good posture, you will receive either a green colored screen with an encouraging message such as "Looks like someone is a perfectionist" or if your posture begins to slip, a red screen appears with a message such as "Just straighten up a bit and you'll be great". I found that the red alert screen often appears a split second before being alerted with a buzz, allowing a chance to quickly make adjustments before a buzz alert occurs. You can set the app to "always appear on top" which enables you to watch a green or red screen in your peripheral vision while working at your computer.
Track progress- View the total hours of "good posture" throughout each day. It also allows you to track your level of activity throughout the day.
Posture alert mode – Activate the posture alert feature which offers a more relaxed alert system when poor posture is being used. Instead of an immediate reminder, you can set the timer for anywhere from 1-30 minutes. If you remain in the bad posture position for the specified number of minutes, you will be notified with a buzz.
Change coaching duration- By default, each training session was set for 1 hour. With the app, you change the length of each training session to 5 mins, 15 mins, 1 hour, or 4 hours.
Sync to My Fitness Pal – While I haven't explored this feature, the app allows you to sync your Lumo lift to your my fitness pal account. By doing so, it will automatically add your calories burned and steps taken to your My Fitness Pal exercise diary.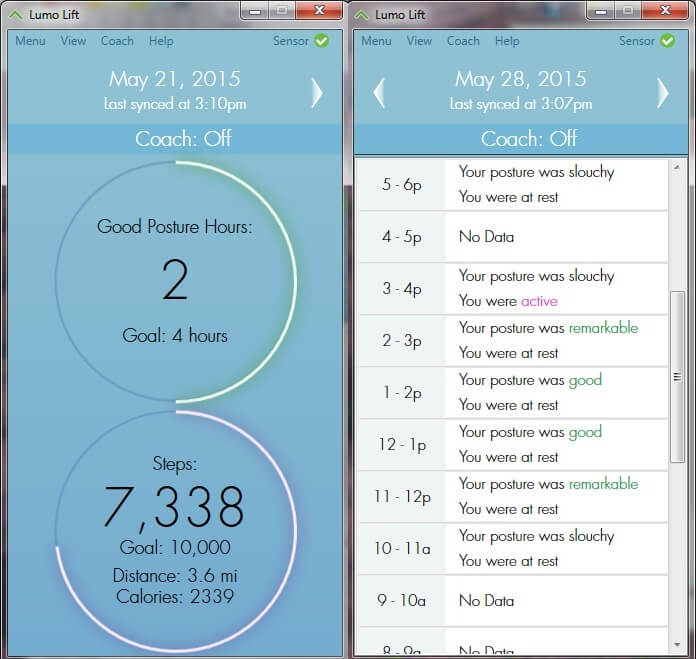 How the dongle works with the Lumo Lift
The Lumo Lift comes equipped with 32mb of internal flash memory which will store approximately 4 weeks of data on the sensor. While out of range, your information is stored on the device. Once within range, your computer will detect the sensor and all of the gathered data will then be transmitted from the device to your computer using Bluetooth. This information will then be available for viewing using the app.
As for range, the manufacturer suggests that the dongle is able to detect the sensor when it is within 30 feet. I found the range to be roughly 30 feet, maybe a few feet less.
Putting the Lumo Lift to the Test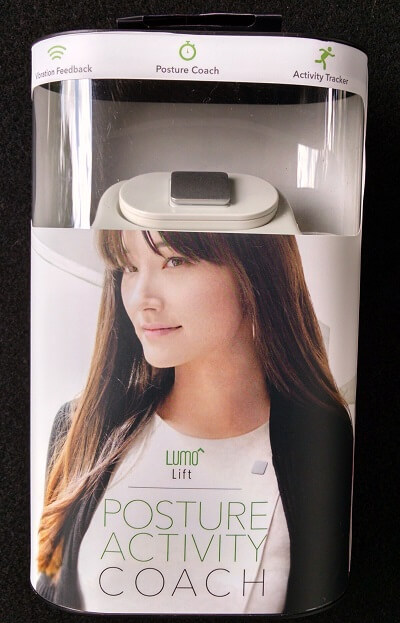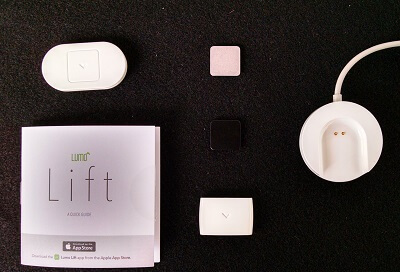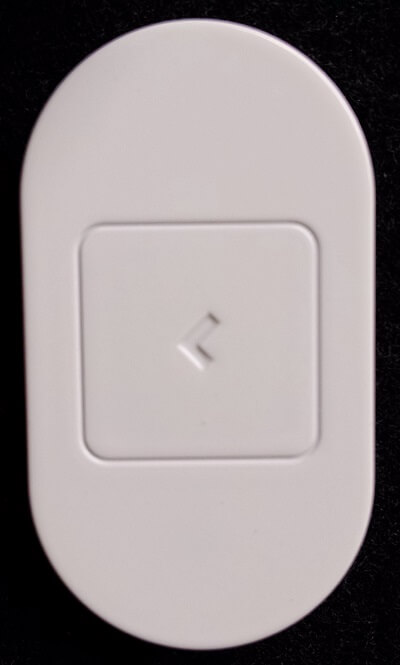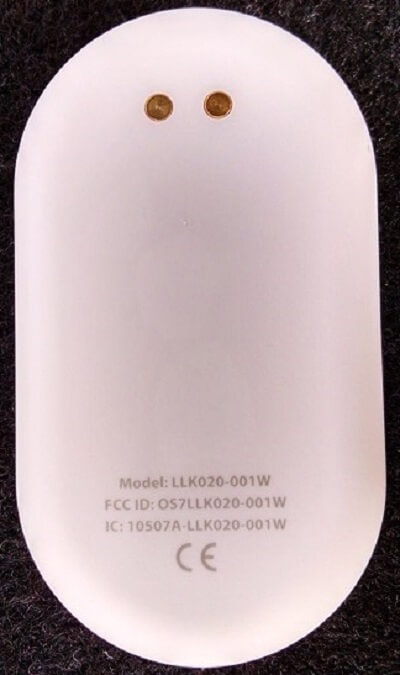 Arrival and Unpacking
The Lumo Lift arrived in a nice retail package that revealed the sensor and with a small gray magnetic clasp affixed to the center.
In addition to the sensor and light gray clasp, there was also another black clasp, bra strap clasp, a small instruction booklet, USB charging dock, and what appeared to be three additional square super magnets which are roughly the same size magnets that are incorporated into the provided clasps. While these additional magnets seemed to be intended for the purpose of packaging and were not mentioned on the label, they could be used to create a customized clothing accessory clasp.
The size and weight of the sensor was actually a bit smaller than I anticipated, measuring 1 7/8″ long, 1″ wide, and 1/2″ thick weighing it at 12.8 grams (including the gray magnetic clasp) or roughly the equivalent weight of two quarters. Pretty incredible.
I looked over the 7 page instruction booklet which contained no more than four sentences per page along with a few images. While the booklet covered the basics including button function, light status, buzz patterns, charging, how to align, how to wear, and how to enter "coaching mode", I was still left with several unanswered questions which were later cleared up after reading the support section on their website.
Getting started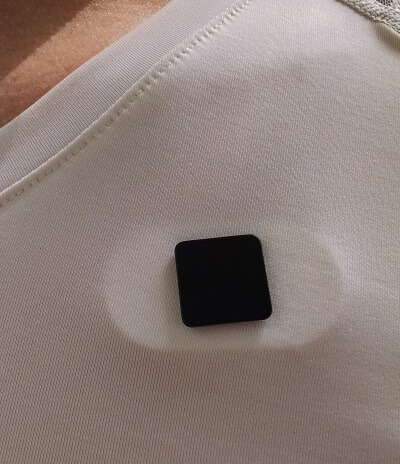 After changing into my favorite tight fitting Alignmed shirt I attached the sensor inside of my shirt, just below the collar bone and secured it with the provided clasp. Putting on the Lumo Lift was a no brainer, because the magnetic clasp practically jumped out of my hand and onto my shirt.
The instructions advised to calibrate the sensor prior to each each use by simply double clicking on the clasp, as you would a mouse. After clicking and waiting several seconds for the confirmation buzzes nothing was happening so I clicked on it once again. Still nothing.
I removed the sensor and pressed on it once while searching for the light indicator which shows the battery status. I actually couldn't even locate the indicator light.
At this point I plugged the USB charging dock into my computer and lined up the charging terminals on the sensor with the terminals on the dock. Once close, the sensor jumped out of my fingers, magically lining itself up on the dock and a red light that was hidden beneath the face of the sensor illuminated. How clever. My unit apparently did not come fully charged which would explain why it was unresponsive.
Two hours later I had the green light and was ready to go.
Before continuing, I would like to point out that the instructions advise that you get into good posture with your "Shoulders back and head lifted" when calibrating the device. While you may be familiar with what good posture should look like, others may not be. Either way, I would suggest checking out the American Physical Therapy Associations Secret of Good Posture guide to ensure that you fully understand what good posture should look like.
Standing tall, shoulders back, head lifted, I re-installed the Lumo Lift and and double clicked to calibrate it. Within a couple of seconds I received a series of three confirmation buzzes, indicating that it had been calibrated. The buzzing sensation was similar to that of a cell phone on vibrate mode which I found to tickle somewhat.
Coaching mode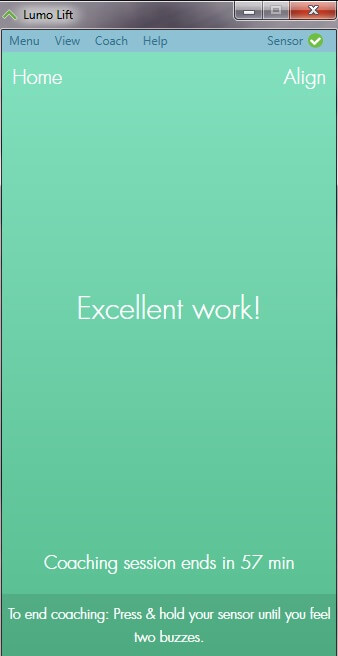 I decided to first test the Lumo in coaching mode which offers an immediate buzz when poor posture is used. The buzz continues every couple of seconds until the good posture position is resumed.
Entering coaching mode was easy, just press and hold for a couple of seconds until it buzzes once. Turning it off is just as easy. Simply press and hold until two consecutive buzzes are felt.
Coaching mode was on and my workday had begun. Like some of you who are reading this, I spend most of my work day seated behind a desk which is when my posture suffers the most.
With the device on, I made a conscious effort to remain upright in the good posture position but sure enough, ten minutes into my workday I received my first warning. Hunched forward and clearly in the wrong, I sat back to resume good posture and the sensor stopped buzzing.
I must admit that just the idea of "getting buzzed" kept me sitting up straight for the majority of my training session. I had suddenly become more aware of my posture just knowing that the senor was monitoring me. For a while I felt like I was participating in some sort of Pavlov experiment.
As my session continued on, I deservingly received a buzz every time I leaned forward or slouched down in my seat. The sensor allowed for an inch or two of leeway before activating, meaning that I did not have to sit completely motionless.
An hour into my training session, I unexpectedly felt a series of two buzzes which according to the instructions that I later read, indicated that my training session had timed out and ended on its own. The instructions noted that the session time can be set at 5 minutes, 15 minutes, 1 hour or 4 hours by using the app.
I later tried the coaching mode using the app which showed either a red or green screen, depending on the current state of my posture. While the coaching portion of the app was not necessary because you will receive a buzz notification, I found the visualization to be helpful. I could set the app to "always on top" and watch my progress while working on my computer.
After remaining seated for several hours, I began to wonder how the Lumo Lift would perform while moving in coaching mode. Remaining conscious of my posture, I set out on a 45 minute walk to see if I could get it to inadvertently activate the sensor. During my walk I didn't experience any unexpected buzzing which was good.
Day one had ended and I had declared my training session a success. While the buzzing did become annoying certain times of the day when my posture suffered the most due to fatigue, it functioned just as intended to and I didn't receive any undeserved notifications with the exception of a couple times where I had to bend over to reach something on the floor.
Posture Alert Mode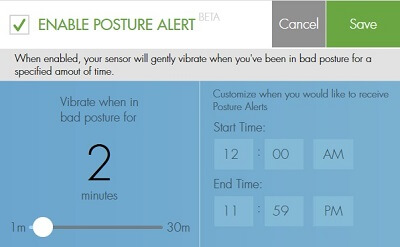 After testing the Lumo Lift in coaching mode which didn't cut any slack, I was ready to try the more relaxed alert option.
Using the app, I entered the posture alert mode and set the alert for two minutes and set the timer so that it would remain on throughout the workday.
During the first hour there was of course a definite difference in the number of times the alert sounded. Set at two minutes, it didn't seem to alert often enough so I decided to change the setting to one minute which seemed to be a good compromise between being constantly alerted and not being alerted enough. Throughout the day, I would receive an occasional warning buzz whenever I leaned forward and remained in that position for over a minute.
Because it doesn't immediately activate at the first sign of poor posture, I found this mode to be a more practical option, especially during the first few days of using the Lumo Lift. I later reverted back to the coaching mode after a few days of getting used to sitting up straight on my own.
Battery Life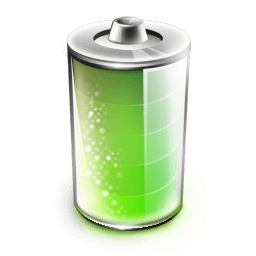 The Lumo Lift boasts a 5 day battery life and a 2 hour charge time but how does this product stand up to these claims?
While I had a tendency to store the sensor on the charging dock each night, I decided to experiment to see exactly how long the battery would last without being charged. Checking the battery status could be done in one of two ways – by pressing the device once and noting the led color or by using the app. The former tells you when the battery falls below a 15% charge while the latter offers a precise reading.
When used daily in coaching mode, I found the battery lasted just over 4 days which fell slightly short of expectations. When simply used as a monitoring tool (without alerts), I found that it would last just over 5 days.
As for charging, the amount of time varied between 1-2 hours, depending upon how far the battery had been discharged.
Overall Opinion and Recommendation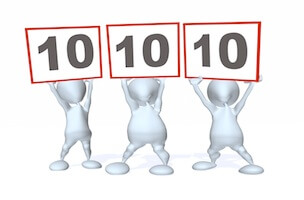 After spending three weeks with the Lumo Lift, it was quite clear why this product has created so much buzz in recent months. It has been featured on ABC, NBC, Wall Street Journal, and CNET, as well as several other. In 2014 Time Magazine named the Lumo Lift a best invention of 2014.
It's the only posture monitor of its kind that provides real time feedback as well as kept track of not only posture but also level of activity.
The app allowed me to reflect upon my progress each day. The mere idea of being held accountable had an immediate impact on my posture. Over time, I noticed a gradual shift from spending the majority of my work day using "slouchy" posture to mostly "remarkable" posture, which provided reassurance that my posture was showing signs of improvement.
While I'm not the most tech savvy individual, I found this product both easy to set up and easy to use. It took less than 15 minutes to read over the instructions and set up both the sensor and the app. Once the installation had been completed, the most difficult part was remembering to put it on and remove it each day. There were a couple times where I almost forgot to remove it from my shirt.
As for the $80 price tag, this seems to be fair considering that the Lumo Lift acts a posture trainer as well as a fitness tracker. The step, distance, and calorie counter were all proved to be quite handy.
The Lumo Lift is without a doubt, the best posture trainer that I have tested so far. Traditional posture supports get the job done but once the support is removed, your posture will eventually begin to slip because the muscles that are responsible for posture were not used and strengthened while wearing the brace. Some evidence suggests that wearing a posture support can actually weaken your posture as a support performs the function that your muscles normally would.
The Lumo Lift allows you to ultimately retrain your posture and sit up straight on your own without the assistance of a support. No supports, no exercises, no odd contraptions. Just sit up straight and allow the Lumo Lift to remind you whenever you slip into bad posture. Within the first week you will start to see results as you unlearn your old poor posture habits.
Overall, this product has earned a "perfect 10" because of its great performance, ease of use, and reasonable price.
Pros vs Cons

Compact, lightweight, and concealable
Virtually undetectable
Syncs to smartphone for easy tracking and analysis
Reasonably priced
Includes calorie, step, and distance counters
Alert settings put you in control
Retrains posture and doesn't cause brace dependency
Simply effective
A charge lasts up to 5 days
Named a "best invention" by Time Magazine
Works with Apple, Window, and now Android products
Not effective with loose fitting clothing