About the Percko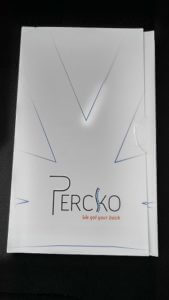 Alexis Ucko and Quentin Perraudeau, both cofounders of Percko, started their business model in 2014 while attending ESSEC, an International Business School in France.  They strived to design a product that could help millions of people with back problems and poor posture, and so they did.  Alexis and Quentin pride themselves in being one of the first companies to design a product that aids in back pain relief with the help of actual health professionals.  Their team of medical professionals has contributed to the effectiveness and success of their products.
How it works
The Percko Lyne Up undershirt opens up your thorax, or chest, to enable trunk extension.  Trunk extension is when you straighten your body upwards so that you are not bending at the waist, almost to a hyperextension where your back is past the neutral position.  The two main muscles that make trunk extension possible are the erector spinae and multifidus. When your chest is extended and open, your posture will be upright and straight, which is the main function of the Percko.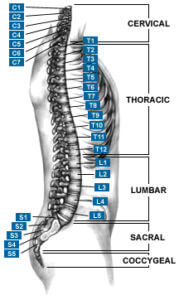 The Percko works on your entire back, unlike other similar posture shirts that only target the upper or lower segments of the back.
The 5th Lumbar
The Percko undershirt stimulates your back and the 5th lumbar.  The 5th lumbar, commonly referred to as the L5 vertebrae, is the strongest of all vertebrae in your spine.  Since it is the strongest, it unfortunately bears most of the weight and stress of your upper body which can be good or bad. It's also the most suceptible to strain and injury so the fact that the Percko targets the L5 directly, is a great function.  The tensors are strategically placed to cross your 5th lumbar which apply pressure when you are practicing poor posture and stimulate your muscles, mind, and body to correct your slouching.
How the Percko Lyne UP Arrived
The Percko Lyne Up comes packaged in a folded paper shell similar to the kind of packaging that panty hose or stockings are packaged in.  When you open the paper box, information about the Percko is printed inside on the back of the front cover as well as the inside of the back cover.  The men's Percko is nude in color, or skin-tone.  It came neatly folded in the packaging and was ready to wear.  Percko's proprietary "tensors" are visible immediately in the design of the undershirt.  You will notice the tensors on each shoulder on the front side along with tensors across the chest and then crossing along the bottom at angles when you tighten the side panels at the front of your stomach.  On the back of the shirt, the tensors are vertically placed from your shoulders down towards the lower back and then horizontally connect and cross the lower back in two lines.
My Wife's Review of the Percko Undershirt
The Percko shirt came neatly packaged in a solid paper box.  It was very soft to the touch and surprisingly sturdy since the material was so thin.  I could definitely see this being a comfortable undergarmet since it's not bulky or thick at all.
The first Wear
The first time I wore the Percko shirt, I immediately felt a gentle pull towards the back part of my shoulder.  It wasn't very dramatic at all, and was actually subtle enough to remind me to stand up straight and not slouch.
Like all of the products that we review, I tested out the Percko for 2 weeks to see what kind of results I could get.
Week 1
I typically wear an undershirt underneath my clothes, so for these two weeks, I scrapped my basic cami and wore the Percko.  It fit comfortably over top of my bra and was form fitting like my cotton camis that I wear everyday.  I liked the fact that I could adjust the side panels on the bottom front to fit more comfortably.  After the first few days, I was definitely more aware of my posture than ever before.  The tensors located on the bottom back of the shirt as well as on the upper back constantly reminded me when I started to slouch.  All in all, I would say that week one was my training week for the Percko, as I felt it served as a constant reminder to practice good posture.
Week 2
Week 2 of wearing the Percko seemed to go much smoother than week one as I believe my postural muscles were trained in week 1 and I didn't catch myself constantly correcting my posture.  I learned to straighten my stance while sitting at my desk and with my normal chores around the house.  I would find my posture slipping here or there, but for the most part, I felt as if I was practicing better posture during week 2 than I ever have before.  I would call this product a success and I will continue wearing the shirts instead of my normal camis to keep my posture in check.
Washing the Percko – How it Held Up After Washing
Like most undergarments, Percko encourages that the undershirt be washed in warm water with like colors.  It can be machine washed, but not dried.  You can lay the undershirt out on a dry towel to air dry or hang on a hanger.  Ironing is not recommended.
After a few days of wearing the undershirt as well as working out and walking with it on, I decided it was time for a cleaning.  I followed the care instructions and threw the shirt in the washing machine on the 'delicates' cycle with some other undergarments.  It held up fine in the washing machine and I hung it to dry in the laundry room on a hanger.  The material itself was very fast drying so it was ready to wear the next morning.
Material Content and Design
The Percko undershirt consists of Polyamide and Elastane materials.  Polyamide is a macromolecule that occurs both naturally and synthetically.  Natural polyamides include silk and wool, and synthetic polyamides can include nylon.  Elastane is a polyerethane based material that is used in many undergarments and activewear. These materials create the soft silky touch of the shirt all while keeping it lightweight. The Percko shirt is made in Tunisia but designed in France.
Pricing
The Percko Lyne Up retails for 129 euros or $153USD.  Shipping is free, even if it's International.   Percko products typically arrive within 4 business days, anywhere in the world.
Sizing
Percko products are for adults only.  They have a variety of sizes to choose from and have an easy size selection tool on their website.  All you need to do is have a waist and bra measurement (for females) and the website will give you the suggested size you should purchase.
Warranty
Percko has a notable exchange and return policy.  If there is a manufacturer defect and you want to exchange your shirt for another one, you have 15 days to reach out to Percko for the exchange.  You can email them with your issue, or send a hand written note with the problem – either way works for them.
Percko will happily offer an exchange for a different size.  They understand that the right size and fit of the shirt significantly matters, especially when you plan to wear the undergarment to achieve good posture.  You can email them directly to do a size exchange.
If you are unhappy with the product for whatever reason, you can return the product with an explanation to the company within 15 days and you will be refunded.   Since the company is based in France and all returns are directed there, you should reach out to them directly before you ship the item, as sometimes international shipping can take several weeks, and you wouldn't want to go over the 15 day period without letting them know your return is on the way.
The Percko Undershirt vs. Alignmed Posture Shirt
The Percko does not have sensors like AlignMed, however the Percko shirt has mechanical tensors which is a proprietary technology that has been patented.  Percko has been specifically designed for people who slouch during their daily routines, whether it is at a desk, elevated workspace or even as simple as looking down at your work with your head tilted most of the day.
Correct posture is ultimately achieved when your center of mass is almost in the exact location of where your center of gravity is.  Your spine should always be in an S shape, however when you slouch, your spine looks more like a C shape. When this occurs, your center of gravity and center of mass move away from each other.  This results in your muscles activating to try and align your spine.  When the muscles are overworked from trying to maintain a healthy posture, tensions occurs in your muscles over time which is the actual cause of back pain.
If you are looking for a posture trainer to help with your poor posture, take a minute to research all of your options out there.  Always remember that perfect posture cannot be achieved over night, but after weeks of training your spine to align, you should be able to significantly improve your posture with exercise, performing stretches such as yoga poses, or with the aid of the posture training shirt or brace.  It's important to consult with your doctor before making any decisions regarding purchasing a product that will improve  your posture.