☆☆☆☆☆ 5 Star Rating
The company behind the Posture Shirt 2.0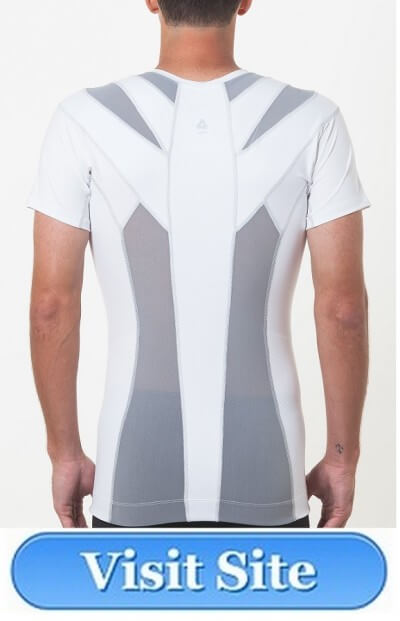 Alignmed, the company behind the Posture Shirt 2.0, is based out of Santa Ana California and is headed by Bill Schultz, the president and founder of the company. According to a California Secretary of State filing, Alignmed was originally created in April 20o1. The company manufactures and sells "Evidence-Based Apparel" which unlike traditional posture braces that provide support by doing the work of your muscles, their posture shirts are actually an article of clothing designed to stimulate muscle movement which corrects body alignment. Notice, Alignmed offers t-shirt style posture apparel, not the traditional brace style devices that are most commonly sold. The evidence-based portion simply implies that multiple clinical studies and trials have been conducted on their posture shirts over the past 10 years, proving their effectiveness.  Nearly a dozen studies have been published from universities such as Duke/UNC, University of Southern California, UNC Chapel Hill, as well as several research institutes such as Stedman Philippon and the Lexington Clinic in Kentucky.
Exactly who is Bill Schultz?
Bill Schultz is an Orange County California resident who prior to creating Alignmed in 2001 had spent over two decades working in the surgical equipment industry selling equipment and training surgeons. Like several other business ideas, Schultz came up with the concept of "Evidence Based Apparel" while trying to solve a problem of his own.  While in his mid 30's he started to experience lower back pain which progressively worsened. At the age of 45, his doctors suggested spine surgery to fuse a disc in his back. Not too fond of the idea of back surgery, he sought out alternative treatment options. An orthopedist friend of his had recommended a local chiropractor to assist him in finding a solution. He visited the Newport Beach chiropractor and was offered a device that was actually created by the doctor himself. The original device was actually intended for use by individuals who were recovering from shoulder surgery.  It was designed to bring the shoulders back and help realign the body. Originally, Schultz was unsure of whether or not the doctor's device would be effective, but minutes after putting it on he was convinced that the device had potential. His pain vanished nearly instantly. Needless to say, he was a believer. It wasn't long before Schultz decided to purchase the patent from the Newport Beach chiropractor and capitalize on an opportunity to flourish in an untapped market. The only issue was that the device had not yet been clinically proven. After designing the original posture shirt, he invested heavily in research and development to prove its effectiveness. Today, Alignmed sells a full range of evidence-based apparel.
Alignmed vs Intelliskin – Are they the same company?

While searching for comparable posture shirts, I came across another company called Intelliskin who's headquarters are located in Newport Beach, CA. Interestingly enough, the two companies are the only major players in the United States that are selling posture shirts and the two companies operate within 5 miles of each other. A few search engine queries later and I learned that Alignmed and Intelliskin are unrelated although at one point in time there was a relationship between the founders of each company.
Credibility
In addition to offering evidence based on extensive medical research, Alignmed also shares a rather impressive list of nearly two dozen orthopedics, medical directors, physical therapist and various other medical professionals who currently serve on their advisory board.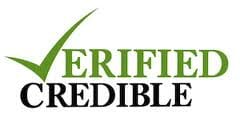 Their products have been used by several organizations – the LA Police Department, Navy Seals, Chicago Blackhawks, and the New York Giants to name a few. They are also endorsed by some recognizable names including Elton John, Peyton Manning, Tony Stewart, Dwight Howard, Davey Johnstone, Luc Robitaille, Roger Fredericks, and Rocco Dispirito. All of Alignmed's products have been approved by the US Food and Drug Administration as class I medical devices.
The Anatomy of the Alignmed Posture Shirt
At first glance, the posture shirt seems to resemble a form fitted Under Armour compression shirt yet costs substantially more. Exactly what makes this shirt different? On the surface, there seems to be a subtle difference between the two. However, after further investigation, it's clear that the design and function of the two are completely different. Simply stated, Under Armour compression shirts are form fitted and are created from a Polyester/Elastane (Spandex) material. While Under Armor's compression shirts do serve a purpose, they simply do not assist with correcting or maintaining posture. The Posture Shirt is created from a similar material (77% Polyester, 23% Spandex) yet provides the added benefit of posture assistance by incorporating a patented posture correcting system into the shirts while making them 4″ longer than a standard compression shirt. According to the manufacturer, there are three dynamics that are incorporated into their shirts which help you to achieve better posture:
Neuroband Technology: Variable tension bands are used to stimulate muscles using biomechanical and biofeedback. These bands are constructed of tightly woven fibers (100% polyester) which stretch in two directions as your body moves. These bands mimic athletic taping (Kinesio), a preventative measure used by athletes to stabilize muscles and prevent injury.
Touch Tension Technology: This terminology refers to the dual directional pull created by the Neurobands.
Muscle-Map Design: Neurobands are selectively incorporated into the back of the shirt to target certain areas which provide support and stability.
Here's how it works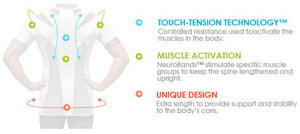 Alignmed created the Posture Shirt by strategically placing their "Neruobands" in targeted areas along the back of their compression fitted shirts. When worn as an undergarment or by itself as a shirt, these tension bands stimulate muscle movement which is a key component when it comes to correcting poor posture. Unlike most traditional clavicle supports which often do the work of your muscles, this posture shirt serves as a gentle reminder of what good posture should feel like and allows your muscles to naturally function as they are intended to do. Your muscles respond by lengthening: placing your back, shoulders, and neck in the proper position. A more technical explanation is that these Neurobands stimulate neurons receptors that are located in the muscle tissue. These neuron receptors subsequently send messages to the spinal cord which then call upon additional support from the muscles. By serving as a reminder to straighten up instead of a forced adjustment, you are retraining your core muscles to work properly so that you will eventually have great posture even while not wearing the posture shirt.
Perhaps one of the greatest criticisms of posture braces, in general, is the speculation that wearing one long term can actually cause your core muscles to weaken as you become reliant on the extra support provided by the brace. The Posture Shirt supposedly prevents this from occurring as it causes muscle stimulation to correct your posture rather than force. The manufacturer claims that their product does not restrict movement but rather allows your body to move more efficiently while reducing the risk of injury.
Who can wear it?
What type of person actually wears one of these shirts? They are intended for use by just about anyone including office workers, professional athletes, surgeons, physical therapists, truck drivers, cyclists, athletic trainers, stay at home moms/dads, and so on. In other words, anyone who suffers from pain related to poor posture. This means that it can be used for work, pleasure, fitness, or simply everyday life.
Price, sizes, and options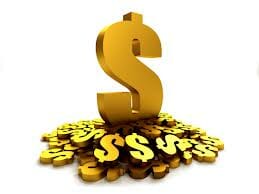 The Men's Posture Shirt 2.0 comes in three different colors – black, white, and white & gray in sizes small, medium, large x-large, and xx-large. The Women's Posture shirt 2.0 is only available in black or white & gray in sizes x-small, small, medium, large, and x-large. The manufacturer offers a sizing chart along with instruction on where to measure your chest (bust), waist, and hips in order to get a proper fit.
As for price, the 2.0 shirt costs $95.00. They offer several different shipping options including USPS priority shipping.
Using First Class shipping, rates are usually the least expensive at around $4.68 (continental US) for one shirt. There is also an option for FedEx express shipping which is typically a bit more expensive. Going with the least expensive shipping option, one posture shirt shipped to your doorstep will set you back about $90.18 when you use discount code PBGTEN at checkout and recieve 10% off your order.
My experience using the Posture Shirt
As a 30 something years old male who spends several hours each day seated in front of a computer, I figured that I would be the ideal test subject to try out the Posture Shirt 2.0. While at work my head naturally gravitates towards the screen to get a closer look at whatever I may be working on. Over the years I have developed head forward posture (chicken head appearance) and as a result, I deal with neck, shoulder, and back pain to some degree on a daily basis. Needless to say, my posture can use a bit of help. I will begin by offering my opinion of the style, comfort, and performance of this shirt as well as my overall thoughts and then give a product recommendation based on my experience.
Style
I've examined several different styles of traditional posture braces and while I've come across many products that seem to perform well, I'm usually hesitant to reveal to others that I'm wearing a posture support. Why? While not necessarily ashamed of my less than perfect (okay poor) posture, I'm not interested in calling attention to myself by wearing an unsightly back support. Fortunately, many of today's supports can be worn underneath your clothing. This can become an issue when you are wearing anything but loose-fitting clothing as the support brace lines will clearly show through. Believe me, the last thing that you want to deal with is having one of the guys call you out and then having to explain that it's not a training bra that you are wearing underneath that pink polo. Guys, Alignmed has it down when it comes to style. Their posture shirts are quite swanky,  resembling an Under Armor compression t-shirt and not a medical device. You can easily wear it by itself or conceal it underneath your clothing if you like. Ladies, concealing a posture brace will obviously be less of an issue for you but is something to consider. Shortly after arriving at my doorstep, the first thing that I did was proudly display my new shirt while going for a jog around the neighborhood. There's something about the appearance of this shirt that will make you feel as if you have superhuman powers. Careful there Kal-El of Krypton, don't attempt to leap between tall building just yet.
Comfort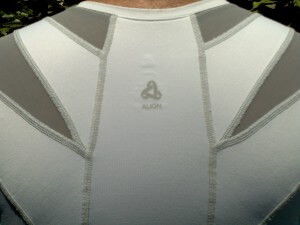 As a guy who has always enjoyed wearing somewhat loose-fitting clothing, the tightness of this shirt was something that I was not used to. I could really feel the material stretch across my chest as I put the shirt on. Despite the tight fitting nature of the shirt, it was quite breathable due to the type of fabric used in addition to mesh vents which were vertically incorporated along the back of the shirt. Even while wearing the shirt in 90+ degree weather with close to 100% humidity, the spandex fabric performed quite well as it wicked moisture away from my body, keeping it cool. I later found that the material dries rather quickly once removed from humid conditions.
The second day I wore my posture shirt for the duration of my work day. By the end of the day, I had a newly-formed opinion of the overall comfort level of this product. The tight nature of the shirt had become less apparent and within a few days of use, it had actually become quite comfortable to wear. My body had quickly become accustomed to the tighter fitting clothing and I had actually begun to develop a preference for the shirt. Most days I would wear the shirt by itself while other times I would wear it as an undershirt. In both cases, it was very comfortable to wear after the initial adjustment period.
Performance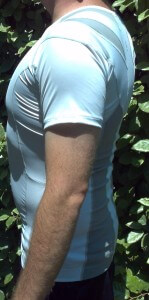 Perhaps the most important feature to consider is product performance. After all, a posture support may be fashionable, it may be comfortable, but if it doesn't perform, then well, it's not a posture shirt – it's just another (expensive) shirt. This is an area where the Alignmed shirt excelled. After putting the shirt on I could immediately feel the gentle force of the Neurobands hard at work. Just as the manufacturer suggests, it's more of a gentle reminder to pull your shoulders back and not necessarily an unnatural pull as experienced with many traditional posture braces. While snug fitting, the shirt did not seem to restrict my movement. The manufacturer incorporated a horizontal foam-like band across the inside back of the shirt which was quite helpful in keeping the shirt in place and preventing it from riding up my back.
I found the posture shirt to be particularly helpful while seated behind my workstation. During a typical work day I make an effort to stand up, walk around, and stretch multiple time, otherwise, I will experience neck and or back pain that lasts throughout the day. I started working at 7:00 am and next thing I knew it was lunchtime and I hadn't stood up once since starting work 5 hours prior. During this period I had absolutely no pain. I couldn't believe what I had just experienced. I would have typically stretched 3-4 times by now and still might experience some discomfort. Throughout the day the shirt served as a constant reminder to stop leaning forward to get a closer look at the computer screen and to sit up straight. Later that day I wore it to the gym for a bit of cardio and weight training. While I had an excellent experience at the office, I wasn't expecting this shirt to enable me to lift more weight or run for a longer period of time. At the gym, the shirt easily wicked away sweat and was comfortable to wear. It did, in fact, continue to serve as a constant reminder to maintain good posture during my workout. Unfortunately, I didn't notice any differences in performance as I was not able to increase the number of reps or the amount of weight that I was lifting. I did, however, notice a greater awareness of my posture while performing various exercises as well as a lack of neck and back discomfort during and after my workout.
Over thoughts and recommendation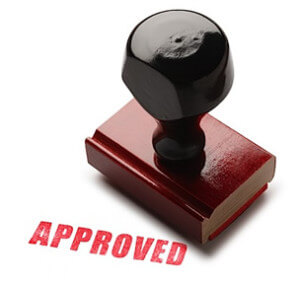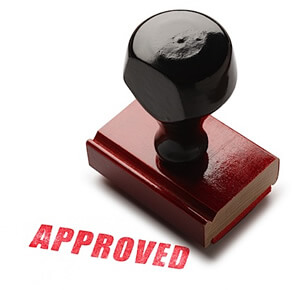 In a market filled with quick fix posture braces that have no clinical backing, finding a product that is well researched and thoughtfully engineered is a rarity.  This company went the extra mile by investing in research and development and it has paid off in a big way. This product has knocked it out of the park on every level. Initially, I was skeptical when it came to how this shirt actually works. I mean, tension bands are sewn into a compression shirt that stimulates neuron receptors? Such claims would raise suspicion in just about any reasonable person. But after the first day, I was a believer. It really does work just as the manufacturer claims. After wearing the shirt for 3 days while at work I decided to give it a rest while I washed it. The manufacturer suggests washing in cold water and air drying. After a few days of sweat combined with the typical smell of spandex, it really started to take on an odor. While the shirt was off I did notice that my body was subconsciously adjusting if I began to lean forward. It was apparent that it was doing a fine job at retraining my core muscles. A week later, the Posture Shirt has performed quite well and is making a noticeable difference in my posture. I really enjoy the benefits of posture assistance without the physical restrictions that are commonly associated with many conventional posture braces.  I'm sitting up straighter and have been experiencing virtually no shoulder, back or neck discomfort while testing out this product. Overall, Alignmed makes an excellent product that can be used by anyone who is looking to improve their posture. I give this product my highest recommendation. Unfortunately, I'll have to store this posture shirt away as I explore and review other available options. I'm sure that the posture shirt will eventually become a part of my regular wardrobe.
Alignmed Posture Shirt Promo Code
Enter Code PBGTEN into referral box at checkout for 10% off your order.
Pros and cons to consider
Pros:
Clinically tested – Tested and proven. There's no denying scientific evidence.
Physician recommended – The manufacturer claims that 1,400 physicians have used or have recommended this product.
Stylish – Does not resemble a training bra and is visually appealing.
Functional – Works by stimulating and retraining your core muscles, not by providing 100% support.
Comfortable – Becomes comfortable once accustomed to wearing.
Non-restrictive – While offering a reminder to use good posture, it does not restrict movement.
Breathable – Unlike cotton, the material does not hold on to moisture.
Relieves pain – Good posture means less pain. You will feel the results instantly.
Wearable – Can be worn alone or under clothing.
Versatile – Can be used in the office, gym, playing sports, while driving – just about anywhere.
It works!
Cons:
Adjustment period – Takes a day or two to adjust if you are not accustomed to wearing tight clothing.
Smell – Spandex smells funky, especially if you don't wash it for 3 days. 😮
Expense – While well worth the $90 investment, this may be out of range for those on a tight budget.
Still Need Help Choosing a Posture Brace?
From posture supports and resistance trainers to biofeedback shirts, there are well over 100 products that are currently being sold in stores and online. With so many to choose from, finding one that delivers can be challenging to say the least.
After evaluating over 25 of the most popular products being sold, I have created this Posture brace comparison table which assigns a ranking to each product based on criteria such as comfort, effectiveness, innovativeness, durability, and cost.